It is a simple bellow type chuck mounted on an aluminum body for holding up the reel. It is used with a side clamp or a set screw on the base shaft.
Air Chucks
1. Economical & light weight solution for core holding.
2. Widely used for low torque unwind operation.
3. Absolutely no damage to core.
4. Easy mounting on shaft.

Material:
- Body: Aluminum Alloy
- Bladder: Rubber Polymer
Available Size:
- Core ID 5" onwards Bore ID square or round as per customer requirement
Option:
1. Dual non return valve-common air valve for multiple chucks by PU
2. Stopper plate for core alignment
3. Bore can be with key-way
4. Camping by split collar clamp
Torque Chuck:

Cam type shaft makes the chuck hold core in positive gripping position.
- Concentric torque chucks expansion.
- No side arm force required.
- Gripping is better at high torque application.
- Comparatively lesser damage to the core.
Material:
Alloy steel
Available Size:
- 3", 6", up to 12"
Option:
Flange diameter as per customer requirement
Thrust Chuck: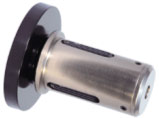 Thrust chuck is a tapper wedge design used for core holding where the force is applied through the arms. It is truly mechanical and fool proof in terms of pneumatic.
- Best suited for rolls using fiber and metal cores.
- Based on mechanical load provided axially, So fail proof and reliable.
- This chuck provides absolute holding of the chuck.
- Concentric core holding.
- Excellent and fail proof design for rewind and unwind.
Material:
- Base and Flange: Alloy steel
- Grippers: Hardened steel
Available Size:
- core: 3" to 12"
Air Power Chuck:

One of the most heavy and durable core holding option where mechanical advantage of tapper wedge is used through high pressure pneumatic cylinder.
- Best option for avoiding core damage in shaft less machines.
- Rotation of the chuck in either direction is possible.
- No axial force is applied: hence better life of winding and unwinding station.
- Concentric expansion and gripping force.
- Quick-Change between core sizes with slide-on core chuck adapters.
- Unmatched torque capacity at higher speed & jam free operation.
- Can be used for any core material without alteration.
Material:
- Body: steel
- Lugs: Alloy steel
- Springs: Spring steel
Available Size:
- 3", 6" up to 12"
Lug Chuck:

Pneumatic Core Holding Chuck for Shaft-less winders.
- Compact & Light weight option for reel holding.
- Moderate torque capacity for General purpose.
- No axial force needed for core gripping.
- Slide on core adaptors available for various core sizes.
Material:
- Housings: Alloy Steel
- Grippers: Rubber, Plastic
Available Size:
- 3", 4" & 6" on Wards
Option:
- Various Adaptors available
Multi Bladder Chuck: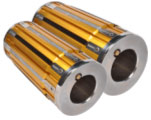 Variant of the Multi Bladder shaft with through bore inside for holding on a shaft.
- No direct contract with Rubber Bladder.
- Less Maintenance cost.
- Highly Reliable & concentric.
- Great option for retro fitting existing Shaft or rod.
Material:
- Body : Aluminum, Steel in special case
- Gripper: Rubber, Plastics and Aluminum
Available Size:
- 3", 6" onwards