Slitting Knives Cutters


Clients can avail from us premium quality Slitting Cutters that are made from quality-tested steel and special alloy steel. Heat treatment techniques employed by us ensure optimum roughness. Longer life between regrinding and sharp uniform shearing edge contribute towards the popularity of our product range.

Specifications:

Low down time high productivity
Thickness tolerances made, extra precision parallelism and flatness
Suitable for slitting non-ferrous metal like aluminum & brass as well as stainless steel
Optimum hardness for wear resistance.

Top Slitting Cutters

We manufacture and supply Top Slitting Cutters after instilling the best quality in these cutters. We ensure our customers highly efficient Top Slitting Cutters and therefore try our level best to satisfy their demands. that are made from quality-tested metal and special metal metal Heat treatment techniques employed by us ensure the best possible roughness.

Features:

Used in varied applications

Available in numerous sizes

Perfect dimensional stability

Good tolerance

Suitable For Cutting:

Bottom Slitter Knives

We provide a wide assortment of bottom slitter knives in all grades, shapes and sizes. Available for slitting of various materials, these are widely used in various printing industries and are widely appreciated by our clients owing to the following features:

Super fine polish and precision cutting edges

High speed dust free and precision slitting

Longer life between regrinds

Neglible run outs and vibration in high speed slitting

Dynamically balanced if required


Circular Knives

We offer a high quality range of Circular Knives that is manufactured using high grade HSS and saw steel by our vendors. These Circular Knives are ideally used in the printing and binding industry to make files, documents and perforations in paper. Following are the salient features of our range:

High durability

Precise finish

High sharpness

Safe to use

Perforation Knives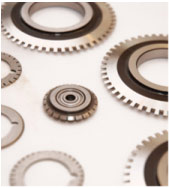 We offer a wide range of Perforation Knives including perforation blades, perforation cutting blades, packing machine blades and wrapping machine blades. Our range is manufactured using high grade MM-type high speed steel and ultra wear particle metallurgy material. This ensures unmatched quality and high utility to the clients. These Perforation Knives can be used to simplify production in various industries such as agro, food, engineering, infrastructure and paper and print. Following are the salient features of our range:

Easy installation and adjustment

Consistent running and high speed production

Long blade life

Thoroughly hardened for optimum wear resistance

Custom manufacture perforation blades

Can be shipped within a day to the clients