Intermediate guiding system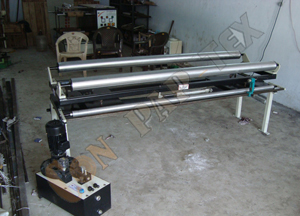 It consists of two rectangular steel tubing frames. One is stationary, the other is movable. it is supported in a nyalguide sliding block and arcuate bar system, and has ab idler roller at either end.
The web can be fed over the TRA in A 'U' shaped path, reversing its direction of travel, or through the TRA in a 'Z' configuration, maintaining the same direction of travel. It is insensitive to attitude and can even be mounted upside down. Solidly supported on all four corners by nylaguide bearings, it is not subject to deflections caused by cantilever stresses. Radial bearings are sealed, and linear bearings are self - cleaning and self - lubrication. The unit therefore requires no maintenance.
Tracking roller assembly (TRA) consists of two rectangular steel tubing frames. One is stationery, the other is movable; it is supported in a BEARING Guide
The Principle:
v The improper mounting of the detector and improper arrangement of the rolls will result in unsatisfactory control performance, or will cause wrinkles to the web.
v When planning and aligning the process line, the following described items must kept in mind. If distance is too short, winkles will happened on thin or soft web.
CON-PAP-TEX:
When needed to correct web position in the middle of the process line, there are two methods to modify the web edge.
Center Pivot Roll Guiding:
This method best applied to the webs of novelistic materials, or distortions web due to the difference tension of both side. The web hardly slips on this guide roll, since there has two 90-wrapped angle. If it is slips, use a rubber coated roll will prevent slip age occurs.
End Pivot Roll Guiding:
This method particularly good for flexible web. It is available, when location in long distance between entry idler roll and exit idler roll. The assumed pivot of the guide roll rotation be arranged to be long, so turning angle of the guider rolls and the tension variation are lesser, will reducing the wrapping of the web. There have 90- wrap for single roll and 180- wrap for double rolls shown as below.
Edge Position Control:
Whenever the film roll is not feeding in order, it could be adjusted by EPC control unit and the film feeding will be corrected to the right position. This system will enhance the productivity of machine and there will provide one set of EPC for each line.
Four TRA Rollers:
We are involved in providing a comprehensive range of TRA rollers. These rollers are use in paper industries. We made these product as per the client requirement.
SRA Frame:
We manufacture and supply a robust range of SRA Frames. These have been made using high grade material, which makes them perfect to be used in a number of applications across the industries. The frames are available in varied designs and specifications to meet the diverse requirements of the clients
DESCRIPTION
Standard adapter bases consists of a stationary floor mounted frame or plate, a four unit, standard nylaguide bearing and support system, and a moving frame of plate. A heavy duty servo cylinder is nested between the frames and the nylaguide bearings. The servo cylinder moves the upper adapter base plate back and forth in response to hydraulic signals from the power unit.
We specialize in manufacturing quality TRA Frames that meets the variegated requirements of our client-le. These are available in various sizes and are customized according to the client-s specific requirements. Appreciated for the features like corrosion resistance, durability, high performance and sturdy construction, these are highly demanded among our customers.
Moreover, we offer them at cost effective prices.
Intermediate Guide:
Positive Displacement / Steering Roll assemblies consist of a stationery base & movable frame with idler rollers. Two pair of CON-PAP-TEX Nylaguide bearings support the moving frame. Positive displacement guides are suitable where long entry span is not available like on printing m/cs. Steering roll guides are available in single or double roller assembly and are idle for machines where, long free entry span is available. Edge Position Control, Center Pivot Roll Guiding, End Pivot Roll Guiding, Edge Position Control, Four TRA Rollers, SRA Frame, Intermediate Guide All these guides are designed for minimum web stress & can be installed horizontally, vertically or up-side down. Tension Control Unit works in process with arcuate bar program, and has ab idler curler at either end.