This is the most commonly used wrinkle remover device. It mainly consists of bowed shaft, metal segments, sealed ball bearings, abrasion resistant, rubber sleeve etc.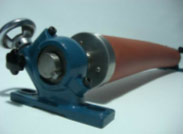 'CONPAPTEX' make Expander Rollers Bow Rolls having very wide range of dimensions and suitable for equally wide range of applications and web materials. They are supplied with mounting brackets, which could be either wall mounting or foot mounting. The Expander Rollers we offer consist of bowed shafts, sealed ball bearings, abrasion resistant sleeve and metal segments. These are widely used as wrinkle remover devices in various industries and are available with us in various dimensions. Further, these are also supplied with gear set and mounting brackets which can either be Foot Mounted or Wall Mounted.
Sizes: Diameter up to 300 mm
Length: up to 8000 mm
Types of Bow Roll available with us:
v Rubber Sleeve Covered. (High Quality Synthetic Nitride Sleeve).
v Metal Expander with hard chrome plated surface for high speed application.
v Vary Bow Expander Roller.
v Sleeve Expander Roller for non-sticking application.
Working of Bow Roll available with us:
v Single Acting Bow Roll
v Double Acting Bow Roll
The Performance of our Rubber Expander Roller (Bow Rollers) depends upon the following points:
v Wrap angle
v Lead-in & Lead-out distance
v Position of bow (Adjustable)
In this, 3:1 (lead-in: lead-out) ratio is considered to be the perfect. The best results are attained when Bow Roller is perpendicular to the web direction.
Advantages of our Bow Roll are:
v Control Slack Edges
v Remove wrinkles
v Separate slit webs on winder
v Eliminate baggy center
v Try to even out lateral tension across the web width
Guarantee of our Bow Roll for 1 Year.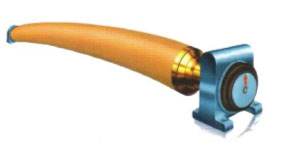 Bow Roll is known as spreader Roll, bowed Roll, Curve bar Expander, Banana Roll, Wrinkle removing Rolls, Bow rolls are available in hard chrome surface, rubber surface. Chrome surface bow Rolls are used where speed is more than 300 meters minutes. If the speed is more the bigger diameter is used to reduce the rpm of the roll. Bow roll works only when there is proper lead-in and lead-out distance and kept the roll in proper warp angle with web material. To do such warp angle adjusting all rolls are supplied with bow angle adjusting worm-worm wheel gearbox with hand wheel and counter pedestal bearing block, by use of this it is possible to adjust the bow angle at 360 degree warp angle. When the Roll get maximum wrinkle removing stop the bow angle adjusting and put the roll on bow locked position, so not do any change in the bow setting. On Roll shaft bow position indication with arrow showing the bowed position of the Roll.
Bow Rolls are known as Banana Rolls, Spreader Rolls, Curve rubber expander, useful for removing of wrinkles, slack edges, spreading and slit separation. Most of the Expander Rolls are driven by web tension itself without any extra drive. Used in Textile processing machines, Plastic converting machines, Paper Industries, in manufacturing, processing, printing, laminating, coating, Batching, Winding and Re-Winding.
Metal is used for before high-speed Paper slitter re-winders for wrinkle removing and after slitting to separate slits. This type of Roll having heavy weights and paper tension itself not sufficient to drive the Roll so extra pulley is provided to drive the metal Expander Roll.
Expander is particularly used before size press where wet working and extra drive is required for to get roll rotate. Rubber bow roll having application where sticking of substance on roll is problem.
All type of Expanders is available in Bow angle adjustable type so one can adjust the bow angle when the machine is in working condition. Fix the Roll at best bow warp angle it gets maximum spreading, wrinkle removing or slit separating effects. The diameter of the Roll depends on speed of web materials and maximum web width and also the mounting center.
For 650 mm web width and web speed of less than 50 meters/min a bow roll of 90mm is sufficient with a shaft diameter of 30mm. For 4500mm web width, 1000mtrs/min speed requires minimum diameter of 160mm roll and shaft diameter of 75mm or above. Bowed Roll is available in foot or flange mounting as per specific requirements.
Bow angle adjusting worm-worm wheel gear bow with hand wheel

Bow Roll with flange mounting pedestals

Banana Roll

Rubber Coated Bow Roller

Bow roll with extra drive

Bow Roll after slit for slit separation Double Acting &Single Acting Bow Rolls

Pulley Driven Metal Bow Roll

Foot Mounting Bow Roll

Flange Mounting Bow Roll
We undertake Repairing & Servicing Jobs of all types of your Old or Imported Bow Rolls & Rubber Roller like Mount Hope, E+L, etc. for Length Cutting, Sleeve Changing, Spools & Bearing Change, Complete Overhauling, etc. We refurbish your old Roll and make it like complete new Roll. We have separate Staff to handle old Rolls & Service it.