We are engaged in manufacturing of dryer cylinders by a process which is acknowledged to be one of the most effective methods known as the -centrifugal cast process". Endowed with bearing metal qualities it can cause skin healing after abrasion. These dryer cylinders possesses a structure that is continuously wet by oil and sustains an oil film for a smooth functioning. Manufactured by high quality material ensures its durability and makes it more reliable to use.
Industrial Drying Cylinder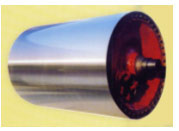 We are engaged in manufacturing and supplying of industrial drying cylinders. This machinery is provided in different sizes according to the clients'' specifications. Our range of industrial drying cylinders includes vertical drying range, steel sizing cylinders & rollers, stainless steel sizing & drying cylinders, dryer cylinders and cooling dryer cylinders.
Vertical Dryer
Vertical dryers is a machinery used in textile processing with the feature of high efficiency and low radiation losses.
Our range, of vertical dryers is equipped with the various high quality accessories and the following components:

v Rotary Joints
v Siphon
v Copper Flexible Pipes
v Vacuum Breaker
Our vertical dryers is available in the following specifications:

v Length- 2mm to 3.5 mm
v Diameter - 800mm, 30 inches
Cooling Dryer Cylinders
We offer cooling dryer cylinders made from high quality material which can easily handle the flake form. It demands for low power and requires operating on a continuous basis. The installation is compact and hence easy to operate. Other features and uses of cooling dryer cylinders are:
v Melts with wetting property to metal surface, can be flaked
v Closed construction available
v Minimize vapour nuisance
v Avoid dust contamination
v Maintains low RH air blanketing
v For inert gas blanketing
v For maintenance of suction conditions for purposes of operator comfort
Industrial S.S Sizing Cylinder & Roller
Our M.S and S.S sizing cylinders & rollers are primarily used for the purpose of weaving machinery. This machinery is provided in different sizes according to the clients' specifications. The material used in the manufacturing of this equipment is Stainless steel & Mild steel with a diameter of 30 inches, 800mm. To sustain the balance, it is undergone through a process to give it a finishing touch. Our M.S and S.S sizing cylinders & rollers surface is mirror polished from outside using high quality components
Industrial S.S Sizing Drying Cylinder
Our S.S sizing & drying cylinders are mirror polished from outside surface with the thickness of 16Swg (1.5mm) to 10Swg (3mm) of the cylinder sheet. The eccentricity should not exceed +- 1.25. Maintaining the balance of these S.S sizing & drying cylinders is of great importance which is ensured by its following specifications:

v Roller length: 48" (1220 upto 141" (3600)
v Hydrolic test pressure 125 PRI to 150 PRI
v Dishend diameter: 22"/560 30"/762 31"/800