Differential Shaft is a sophisticated winding shaft for slitter re-winder machine, used as duplex shaft winder (centre winding type).
1. It is capable of compensating speed variation due to gauge variation with multi cores.
2. Minimum 20 mm core width is possible.
3. Reel holding is possible at any position across the width.
4. No-time lost in re-positioning cores since no distance pieces are required.
5. Shaft can run at very high speed.

This shaft consists of slotted shaft, rubber bladders, hard and ground steel cage with ball type gripper.

Sizes
1. Suitable for core ID. 3" and 6"

2. Length as per requirement.
Capabilities
1. Load up to 2 tons
2. Suitable for Core l. D. dia 3", 4", 6", 8" (metric size and special sizes also produced)
3. Length as required
4. Speed up to 1000 Mtrs/min
5. Suitable for core materials: Paper, Steel, Thermoplastics
6. Minimum core width 20 mm
General Materials of Construction
1. Pipe - Steel
2. End Generals - Steel - simple or hardened
3. Cam - Brass
4. Lugs - Hardened Steel / Rubber
MECHANICAL SHAFT
(BLADDER LESS SHAFT)

This is a lug type shaft but core holding is initiated mechanically and not pneumatically. This shaft mainly consists of slotted pipe, steel lugs, brass cam, ratchet etc. The shaft is capable of taking any challenge arising out of heavy load and speed. It is possible only because of positive gripping and core centering achieved without any extra efforts with the help of cam/lug design. It is very much advantageous with cores having uneven inside diameter. Key and alien-cap bolt prevent any shearing of journals - pipe assembly. we also manufacturer all type of Air Shafts like, , mechanical shaft, quick look shaft, multi tube shaft, leaf type air expandable shaft, lug shaft, ball shaft, mechanical expanding shaft, bottom knife holding shaft, multi bladder shaft, spare parts of air shaft, differential shaft, clutch shaft and many more.
Sizes
1. Suitable for Core ID. 3" and 6"
2. Length as per requirement
QUICK LOCK SHAFT

Economic model for Re-winder shaft having all the advantages like slippage, accommodating gauge variation, smaller core width etc. With only limitation of time needed for repositioning of the core. This shaft is suitable for Paper Cores.
Sizes
1. Suitable for core I.D. 3", 4" & 6"
2. Length as per requirement
3. Individual Quick Locks are also available having width of 50 mm, 75 mm, 100 mm and 300 mm. The bore of Quick Lock is tailor made.
MULTI-TUBE SHAFT

This is a very commonly used shaft. It mainly consists of slotted pipe, journals to suite users machine, lugs, rubber bladder and non-return valve. These types of shafts are suitable for both unwinding and winding stages. It can accommodate single core, multi cores of the width more than 150 mm. Type of pipe material, lug material are decided based on duty conditions like load, speed and core material. The limitations are, it cannot take care of gauge variation or individual core speed variation since slippage is not achieved and core width less than 1 50 mm.
Sizes
1. Suitable for Core ID. dia 3", 4", 6", 8" (metric size and special sizes also produced)
2. Lengths as per customers requirement
LEAF TYPE AIR EXPANDABLE SHAFT

This type of shaft mainly consists of slotted base pipe, metal leaves with knurling/serration, rubber bladder, non-return valve and suitable journals.
This type of shaft can be used at unwind station, but mainly used at rewind stage for advantages like:
1. Narrow width of core
2. To prevent damage to thin cores (100 % support available to the core ID.)
3. At times core-less winding is also possible
This also has a limitation to accommodate gauge and speed variation.
Sizes
1. Suitable for core ID. 3, 4 and 6 (metric size and special sizes also produced)
2. Lengths as required
Lug Shaft:

Grippers are slit through the metal pipe & pneumatic bladder is used for inflating. The grippers give positive holding of the core.
v These shafts are strong & ridged
v Standardized design allow us to manufacture the shaft in any size diameter
v The same design can be offered for heavy duty to light capability shaft
v Simple design ensuring a long service
v Staggered lug design makes it best in winding application
v Each gripper offers a designed chamfer for easy core insertion
v Dimensional tolerance of journal is very tight for better fitting & rigidity during operation
Material:
v Pipe: Steel or aluminum
v Lug: Steel, Rubber or Plastic
Available Size:
v Core ID from 2" to 12-
v Length up to 6000mm ("240")
Option:
v Cantilever shaft
v Various size of lug (Gripper)
Ball Shaft:

A Shaft specially designed for slitters to handle constant tension on multiple slit. The base steel shaft has multiple bladders, mounted with Ball Locks for reel holding.
v Small width winging possible at very low web tension -A solution for Sensitive Material.
v Each slit material can slip at different speed and same tension.
v Ball lock with spring design minimizing side movement while setting and running.
v Automatic tension controlling through rotary union in dynamic condition by signals from machine drive.
Available Size:
v 50mm, 70mm
v 3", 4", 5", 6" any size possible
v Minimum ball lock width 24 mm onwards
Mechanical Expanding Shaft:

Externally Lug Type Expanding Shaft with Wedge type design makes it possible for concentric holding and allow high speed winding.
v Heavy spring is applied for ensuring sliding back of lugs.
v True mechanical advantage is used in achieving heavy clamping force.
v Absolutely maintenance free as no rubber components or lubrication.
Material:
v Pipe: Steel Body & Alloy steel journal
v Lugs: Metal, engineering Plastics
Available Size:
v Core ID 3" to 12" shafts, length up to 3000 mm
Option:
v Numbers of grippers can be defines based on customer requirements
Bottom Knife Holding Shaft:

Fundamentally a Multi Bladder Shaft with tight-tolerance. External body which holding anvils or knives precisely in place for slitting operations.
Material:
v Body: Alloy steel, Hard Chrome Plated & Hardened
v Luge: Aluminum, steel and rubber
Available Size:
v The shaft's outer diameter ranges from 50 mm to 300mm, Length up to 3 meters
Option:
v Rotary union connection option for automatic handing
Multi Bladder Shaft: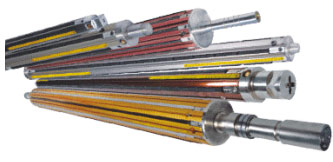 The Multi Bladder Shaft is made of Aluminum Extrusion with steel journals shrink-fitted for High Torque capability. It is assembled with a PU tube for longevity.
v Multi bladder is very light and allows easy handling.
v Easy and quick in-house maintenance.
v One can mount core of any width as small as 4mm for slitter rewind.
Material:
v Pipe: Normally Aluminum extrusion. We use steel pipes in case of heavy requirement
v Lugs: Rubber, plastic and Aluminum
Available Size:
v Core ID: 2" to 12" Length up to 3,000 mm (120")
Option:
v Grapples can be offered as per holding requirements.
v I.E. rubbers, Engineering Plastic and aluminum.
v We offer one piece steel Body for heavy torque.
Technical Information for Air Shaft: