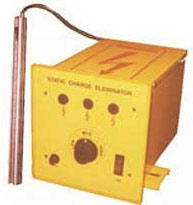 The static electric charges depending up on their intensity and surrounding atmosphere, one may see sparking or operator or worker in surrounding area may get shock. Wherever the material is in the form of film or sheet, it may wrap around the guide rollers causing the break down. In printing machine & coating, laminating machine the static may result in fire on solvent based ink which can cause burning of machineries and even loss of human life.
In winding process - instead of getting clean winding, one may get crease in winding. Static electric charge also attracts fine dust particle which gives shabby appearance to the product. Higher the speed of the machine more is the generation of static electric charge resulting into intense problem and if it is not eliminated speed of the machine is to be reduced resulting into production loss.
REMEDY TO THE ABOVE PROBLEMS
To prevent the above one has to either neutralize the static charge or it should be conducted away to the ground.
HOW STATIC CHARGE ELIMINATOR WORKS
Eliminator bars which are fixed as near as possible to the material process, on getting supply from the control unit, ionize the surrounding air and because of this, static electric charge is conducted away to the ground.
APPLICATIONS:
Extruded Tube

Film Plant

Tape Plant

Cutting & Sealing Machine

Bag Making-Printing Machine

Textile Processing Machine

Coating Machine

Photographic Film Processing

Offset Printing Machine
and any other Web converting machine.
POWER UNIT
Power Control Unit - Can connect upto 3 Nos. Static bars of upto 120 inches working width in the following way:-
Top of Film and bottom of film in parallel (Top and bottom side of film) for entry level and one No. bar for end side is necessary.
One Control Power unit have provision for connecting three static bar connections. One No. extra spare card is provided inside, so that any one of the connection fails during simultaneous use of all the three, the spare card can be used. After disconnecting the power unit, manually change the static cord from the failed card connection to the spare card connection. To do this, simply open the top cover of the Control Power Unit and change the static cord connection from failed card to the spare card.
The power unit comes with one meter length 3 core power cord and static bars comes with two meter single core high power meters special cables as standard length.
Hot Bar Electrode System:
Static charge Eliminator is most common power supply for all the Electrode.
Power Units
Our static control equipment produces high voltage, low current in a controlled and safe way. It has a compact size and is suitable for most industrial environments.
The units' compact size and budget friendly price make them customer favorite.
The unit-s power supply and the appropriate discharge bars are designed for active discharging of disruptive static charges which develop in production processes. The discharge bars and the power supply are used mainly in cases where disruptive static charges on fast-moving material webs impair production processes and need to be eliminated.
Specifications:
Nominal Supply voltage: 230 V AC ,50 Hz

Nominal output voltage: approx. 7 - 8 kV~

Output short circuit current: (Ik) < 5 mA

Power consumption: approx. 50 VA

Maximum load: 15 m (HV cable incl. ionizer)

Nominal frequency: 50 - 60 Hz

Mains cable length: approx. 2.5 meter with earthing -pin plug.

Weight: approx. 5 kg

Max. ambient temperature: approx. +50 -C

Fuse (primary circuit): see name plate

Housing: sheet metal steel with wall bracket

Ground link: grounding terminal on housing

High voltage connections: 4 pcs., plug-type

Static Eliminators:
Static Eliminators Eliminate static and dust
Static electricity is a worldwide problem. It affects most industries which handle non-conductive materials such as plastics, paper, board, laminates and textiles. Electrostatic attraction or repulsion causes materials to stick to machinery, or to each other, causing jams, slow machine speeds and reduced quality and productivity. Friction, pressure and separation are the major causes of static electricity.
When humidity is low, higher static charges are generated .Static becomes more noticeable in the winter months, in dry climates, and in air conditioned
Problems caused by static electricity are:
Static causes Dust attraction

Hazardous sparks or shocks to person

Product sticking to itself, rollers or machine parts

Materials tearing, jamming or curling

Sheet feeding problems

Static cling causes handling problem

Static problems in coating, slitting & laminating

Static cause problem in printing

Improper stacking.
Our 'Electrostatic' fully solves all the above problems which increases your profit and make trouble free operation.
Shockless Electrode System:
The emitter points of shock less static eliminators receive high voltage indirectly. Someone touching the ionizing points feels only a minor tingling sensation. The ionized field is most intense close to the emitter pins, the best distance for static neutralization is between 10mm and 20mm from the 206.
Air Models:
It is the ideal way to remove static, contaminants and dust from three dimensional parts prior to assembly, packaging, painting or finishing. The Ion Air Gun neutralizes static electricity and cleans at distances up to 2 feet.
COMPRESSED AIR GUN STATIC ELIMINATOR
When ordinary compressed air is used to remove dust, its efficiency is limited. If the static charge holding the dust to the product is not neutralized, both the dust and the product will remain statically charged and capable of recontamination. The Ion air gun is a rugged, industrialized ionizing air gun used to eliminate static charges and blow off contaminants from the surface of plastics, rubbers, glass and laminated woods. At the same time the neutral surface does not re-attract airborne contaminants from the manufacturing process.
If the compressed air is ionized, the static charge will be eliminated, allowing high quality cleaning without re- attraction.
The users of this gun will enjoy many hours of fatigue-free operation.
Applications:
Advantages:
Rugged, lightweight, easy to use

Rapid static decay

Low air consumption

Quiet

Effective up to 15 feet (4.6m)

Strong blow off force and flow

Low maintenance
Power Unit: Use with the 331 Power Unit.
Airflow :- The air must be clean and dry.
Typical working pressure 3 - 5 Bar
Air consumption: at 3 Bar : 190 lit/min; at 5 Bar: 250 lit/min.
Air connection is 1/4 BSP
Static Eliminator
Features:
High efficiency bar & Maintenance-free bar design resulting in longer unit life.

Insulated bar cable for easy cable routing along machine frame.

Shock less bar and integral bar/power supply grounding provides safe operation.

Rigid steel construction & Panel Mounting Power Supply design.

Multiple bar connection to a single power supply.

Easy and speedy installation design.

Specifications:
Input Power: 240 V AC, 50 Hz. 50 VA

OUTPUT POWER: 5. 5 kV / 7.5 kV.

NO. OF BAR: MAX. FOUR BARS - TOTAL LENGTH NOT MORE THAN 10 FT.

OUTPUT SELECTION: HIGH/LOW/MED/OFF

INDICATOR: MAINS ON INDICATOR

Application:
Bag Making

Coating

Extruding

Folding

Labeling

Laminating

Packaging

Rewinding

Screen Printing

Sheet and Web Printing

Sheeting

Slitting

Textiles