CON-PAP-TEX Turn Bar With Web Guiding: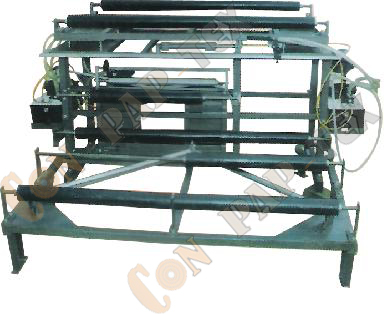 General Description and Construction
v Air Turner Bar Systems are designed and manufactured to suit customers' particular, There are six dimensions for 90° access or 180° revenues, with web dimensions ranging.
application. There are six sizes for 90- entry or 180- turnover, with web widths ranging
from 100mm to 3 meters, for horizontal or vertical mounting.
v The units are built as freestanding or bolt-on modules, complete with leveling braces and bolting down holes. They are designed to suit existing machine and site conditions.
v The framework is rectangular hollow section with specialized corner bracing incorporating the fine adjustment mechanism and mounting for the Turner Bars.
v Bars are tubular steel with bell mouth air holes, ground, polished and hard chrome plated. Air blow creates an air film assist to the bar.
v By choosing appropriate mounting positions, a variety of configurations can be obtained to enable a choice of entry and exit requirements.
v Path rollers are normally aluminum, statically or dynamically balanced.
v Air for flotation requires 5 CFM per 100mm web width at 10ins to 18ins W.G. depending on web tensions.
v Fans direct mounted on each Turner Bar can be supplied at the time of manufacture (option). For narrow web widths and special applications air flotation holes can be reduced for using compressed air or arranged as required.
v The turning bar is used wherever a 90 turn in the direction of the web is required, together with some adjustment of the web alignment.
v The turning bar is installed at an angle of 45 to both the infeed and outfeed direction of the web.
v The web winds itself around the turning bar 180 and leaves the guiding device at right- angles to the infeed position.
v To correct the web path at the same time the turning bar is moved across the outfeed direction (in other words in line with the infeed direction) according to the guiding signal.
v In order to avoid material stress turning bars can be supplied with an optional air connection which puts a protective air cushion between the turning bar and the web.