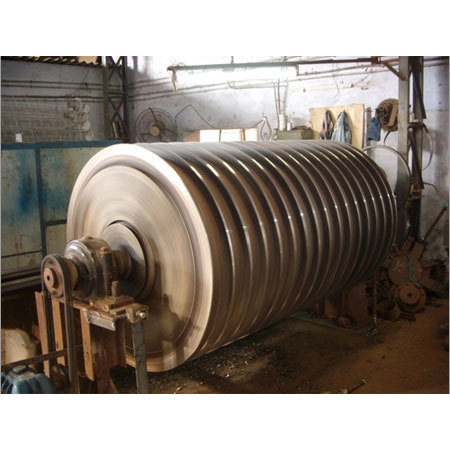 Cooling Drum have hard chrome plated surface. Cooled water passing through its Rotary joint to cools the hard chrome plated surface area of the Roll. Cooling Roll cools the contact area that touches the web materials or rubber rolls. There are different type Cooling Rolls like single shell, double shell jacketed type, spiral type. The surface cooling effect will be varying for different types. Cooling Roll having shaft with inside hole to fix rotary joint. Bigger shaft diameter is recommended to avoid breakage of end shafts as end shaft having inside hole.

We offer a range of cooling drums for Textile Industry which are customized according to the clients specifications. This cooling drum is made of high quality material to ensure quality standards across the globe and its effective functioning. Our quality standards are a priority which cannot be ignored to maintain good reputation among our valued clients.
We are engaged in manufacturing and supplying of cooling drums which are highly effective and of great importance for paper industry. This is made of high quality material which ensures its durability and resistance to corrosion. These cooling drums are safe to use, require low maintenance and reliable and this has helped us to gain a reputation in the international market. We manufacture products according to specific requirements of our valued clients with superior quality of material.