Pneumatic Cylinder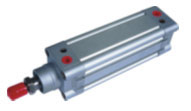 Materials of Construction

End caps - Aluminium diecast / Cast Ion

Tie rod - Tensile Steel Zinc Plated

Piston - Aluminium machines

Cylinder Tube - Upto dia 4"(100mm) in brass, dia 5"(125 mm) & above upto dia 12 M.S. seam less honed & hard Chrome plated.

Piston Rod - High Tensile Steel Hard Crome Plated

Seals - High Nitrile 3307


Features
Heavy duty & Robust constructions.

Single & double acting models are available in Ten bore sizes from 25mm to 200mm.

Adjustable cushioning for reducing impact of stroke at both cylinder ends is standard for all models. (Bore more than 1")

Selection of attachments for six mounting styles.

Super finished and hard-chrome plated high tensile steel piston rods.

Pressure Temperature

Operating pressure upto 10kg f/cm2 for air upto 25kg f/cm2 for oil

Operating Temperature Max. 80o c.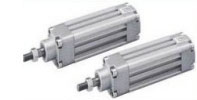 Mountings - Suffix
Rear Flange - RF : Front Trunion - FT

Rear Trunion - RT : Centre Trunion - CT

Clevis Mounting - CM : Front Flange - FF

Foot Mounting - FT : Neck Mounting -NM

For piston Rod Fork Attachment Suffix - RK.


Pneumatic cylinders are available in different sizes, types and are traded strictly in compliance with ISO standards. Apart from these air / pneumatic cylinders is available in different types of cylinders like single acting & double acting pneumatic cylinders, hydraulic cylinders (weldable type, tie rod type), hydro pneumatic cylinders, standard cylinder, slim cylinder, compact cylinder etc.