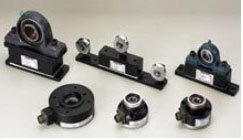 We offer a comprehensive range of Load Cells to our clients for application in the packaging industry. These cells are specially designed for high quality super precision compression. Our ranges of Load Cells are manufactured using state-of-the-art machines and latest technology. We thoroughly check are production at every stage to ensure that the quality of our range of products. These Cells meet international standards of quality and are widely appreciated for features like optimum performance and long life. Features like corrosion resistance and compact designs are also responsible for their popularity among clients.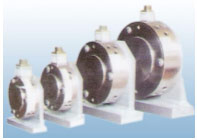 Strain gauge type load cell - a tension transducer for web tension monitoring & controlling is available in various ratings 5 Kg to 1000 Kg.
ASW series of tension sensing load cell are full bridge strain-sensitive, with built-in self-aligning bearings for self adjusting critical vertical as well horizontal level while mounting suitable for dead shaft or live shaft applications. These are manufactured in ratings from 5 Kg to 150 Kg in five sizes, for base or flange mounting.
For ratings beyond 150 Kg, Upto 1000 Kg, these are manufactured in compression& tension type constructions, cater to most of the popular sizes load cells & applications.
All Load Cells are excellent in linearity and repeatability with a nominal output of 1mV/V or 2V/V depending on applications.
Digital controller