Aluminium Rollers offered by us are widely acclaimed for their excellent design. The entire range of Aluminium Rollers is fabricated in accordance with the set industrial norms to assure the best. In addition, we conduct strict inspections to offer a flawless range of Aluminium Rollers in the market.
Features:
v Corrosion proof
v Durable
v Uniform finish
v Imparts good surface finish
Used In

v Automotive industry
v Engineering industry
v Paper industry
v Steel industry
v Leather industry
v Packaging industry
v Glass industry
v Plywood industry
v Textile industry
Our Range of Aluminum Rollers is provided below.
Aluminum Chudi Roller
Length : 50mm to 800mm
Diameter : 50mm to 800mm
Application : In Winder & Center & Textile Machine for Removing Crazing
Aluminum Dancing Roller
Length : 50mm to 800mm
Diameter : 50mm to 800mm
Application : In Rotogravure & Textile Machine
Aluminum Grooved Roller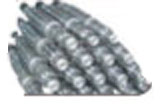 Length : 50mm to 800mm
Diameter : 50mm to 800mm
Application : In Slitting N Pouching Machine