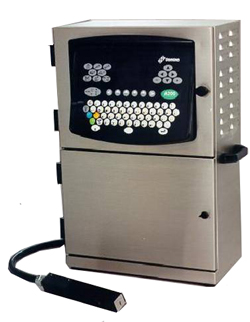 We are pleased to introduce ourselves as one of the leading Distributors, Manufacturers & Exporters of all types of Industrial Inkjet & Thermal Printers and its Consumables and all types of Machinery for Batch Printing Applications. Inkjet Printers are widely used for Printing of Mfg. Date, Expiry Date, Batch Number, etc.
Inkjet Printers Available as under:
v Videojet
v Domino
v Hitachi
v Markem - Imaje
v Alpha Jet
v Jet Inks
v Linx
We also offer Consumables for all above Printers as follows:

v Printing Ink
v Printing Ink - Make Up
v Washing Solution
v Machine Stand
v Print Head Stand
v Color Mark Sensor
v Shaft Encoder
v Photo Cell Proximity Sensor
We manufacture Application wise machinery for Inkjet / Thermal Printer:

v Winder Rewinder for Inkjet / Thermal Printer
v Conveyor for Inkjet Printing
v Strapping Machine
v Stretch Wrapping Machine
v Shrink & L Sealer Machine
v Carton Sealing Machine
v Induction Sealing Machine
v Sticker Labeling Machine
v Filling Machine
v Grouping Machine
v Shrink Tunnel
v Door Wrapping
v Strapping Tool
v Glue Gun
v Top Sealer
v Form Fill Seal (F.F.S.)
All types of Batch Printing applications can be done with our Machines.